BricoCalculette
is a calculator dedicated to calculations for the construction very easy to use. It contains 40 modules specialized in different calculations for construction, carpentry, carpentry or electricity.
.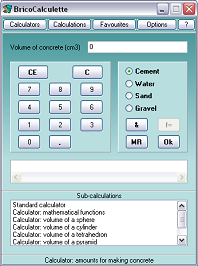 One of these modules allows to calculate the amount of concrete required to pour a concrete slab.
Another of these modules is used to calculate the length of the beams used for the construction of a structure.
Other modules allow for conversions or calculations for electricity. Easily done your calculations for construction with BricoCalculette!
Here are some links that will allow you to obtain information on the use of BricoCalculette or construction calculation:
Demonstration videos of BricoCalculette
FAQ BricoCalculette
We talk about BricoCalculette on the web:
BricoCalculette on NetArtisanat
BricoCalculette on ConcreteDev
We talk about BricoCalculette on the web:
BricoCalculette on NetArtisanat
BricoCalculette on ConcreteDev