Hello,
I just put online a new version of OPCutting the cutting list calculator. Version 1.1 brings the following new features:
Setting a margin and a saw used by default.
The display and printing features cutouts.
Automating the update lists (species, designations and dimensions) when importing lists cutting.
Detection
cutting lists of bars
and automatic adaptation to this type of cutting.
The viewing, printing and exporting the list of offcuts.
Management designations parts.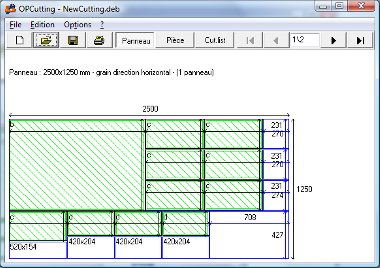 You can download the
new version of OPCutting this page
.
Here are some links that will allow you to obtain information on the use of OPCutting for cutting list calculation:
User Guide of OPCutting Choice of type of cutting plan
Creation of a simple cutting plan with OPCutting
We talk about OPCutting on the web:
OPCutting on ConcreteDev
OPCutting on Softpedia.com
OPCutting on Trguwhks
Other articles about OPCutting the cutting list calculator on WoodSoft:
Cutting list software for woodworking
Tutorial of creation of a complex cutting plan with cutting plan software
Demonstration video for OPCutting the cutting optimization software