How to calculate wallpaper needed?
Looking for a way to calculate the amount of wallpaper you need for your room or your home.
The Calculator: wallpaper of BricoCalculette allows you to calculate the number of rolls of wallpaper needed to cover one or more walls consecutively. This amount of wallpaper is calculated taking into account the length of the wall height, the length and the width of a roll.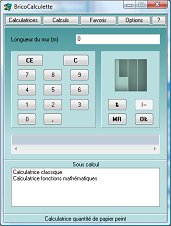 The calculation of wallpaper is very simple and the result is obtained in a few moments.
Calculation software
for
habitat
adopted by more than
500 users.
So feel free to download the trial version.
Here are some links that will provide information and of course the ability to download and buy BricoCalculette:
Faq BricoCalculette
BricoCalculette User Guide
Tutorial BricoCalculette to calculate wallpaper with BricoCalculette
Purchase BricoCalculette
We talk about BricoCalculette on the web:
BricoCalculette

on P.R. shareware
BricoCalculette on ConcreteDev
Other articles about
BricoCalculette on WoodSoft:
Carpentry Software
How to calculate stair steps?
BricoCalculette : Construction calculation